AXCBF 250D2-32
AXCBF 250D2-32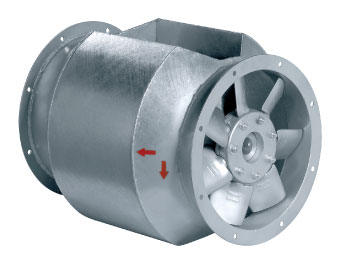 Aerofoil blades with adjustable tilt angle
1 ~ and 3 ~ -phase motors
The temperature of the transported medium is up to 200 ° C
Recommendations for application: The twin axial fans AXCBF of medium pressure are used to remove air with a temperature of up to 200 ° C in the ventilation systems of drying plants, the removal of hot gases from the production departments of metallurgical plants and boiler houses. Fans are produced with a rotor diameter from 250 to 800 mm.

Design: The fan casing is made of galvanized steel (hot galvanized by means of dipping, according to EN ISO 1461); impeller and vanes are made of cast aluminum. Flanges are made according to Eurovent 1/2.

Motor: The electric motor (1- and 3-phase) is taken out of the flow of transported air, completely isolated and cooled by a stream of air. Motor protection class IP55, insulation class F (according to EN 60034-5, IEC 85). For thermal protection, the motors are equipped with a built-in PTC thermistor for connection to an external protection device.

Speed regulation: The speed of a single-phase motor is regulated by means of transformers, the three-phase speed is controlled by a frequency converter.

Connection: The terminal box is mounted on the motor. Power to the fan is supplied by connecting the cable to the AC mains.
Mounting: The fan is connected to the duct network by means of flexible EVH inserts, mounted on the MFA supports, a protective grille of SG type is mounted on the air intake.

Certificates: Certificate of conformity of the Russian Federation and Ukraine.