Ventilation units "Klimat-R"
Ventilation units "Klimat-R"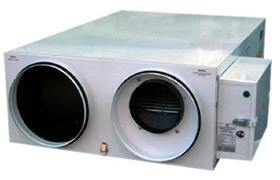 The supply and exhaust ventilation units "Klimat-R" are designed for the following functions::
Supply of fresh air to the serviced premises;
Removal of exhaust air from the serviced premises;
The implementation of the recuperation of cooling and thermal power due to the rotary recuperator that is built into the monoblock unit.
Structurally, the plant represents a supply and exhaust ventilation unit with a heat-insulated shell of galvanized steel with a white sputtering coating. Inside the installation, in the completely isolated supply and exhaust ducts, there are two-sided radial fans and a rotary heat exchanger through which the heat exchange of air flows.
Technical specifications
Name of the characteristic
"Klimat P300"
"Klimat P600"
"Klimat P750"
Capacity for supply and intake of fresh air, m3/h
Up to 300
Up to 600
Up to 750
Power consumption, W
Up to 350
Up to 400
Up to 800
Rotor efficiency, %
88
88
88
Power
220V/1/50+N+PE *
Noise level through the housing is not more than, dB (A)
(1 m distance)
47
Overall dimensions, no more than, mm:
-Height
-Length
-Breadth

250
880
580

300
980
610

307
1033
745
Mass not more, kg
26,4
34,5
39,2
* - N neutral wire, PE