Supply and exhaust ventilation systems Klimat 7 500
Supply and exhaust ventilation systems Klimat 7 500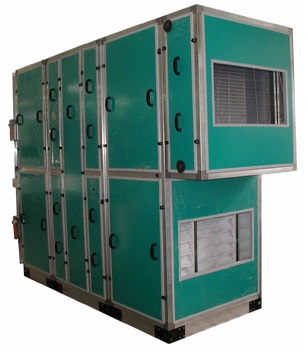 A series of "KLIMAT" installations represents a fundamentally new class of ventilation equipment, combining a supply and exhaust ventilation system and an air conditioner in a compact heat-insulated body with an integrated automation system.
The integrated installation system ensures maximum readiness for installation, which requires only connecting all 3 units of the installation together, tie the installation with air ducts, connect the condensate drain and power supply.
The plant is controlled by a single system of microprocessor automation with the help of an integrated control unit and a small remote control panel mounted in a user-friendly location on the wall.
Automatic control allows the user not to change the adjustments and settings during the lifetime of the plant regardless of changes in street temperature.
The use of a high-efficiency liquid recuperator in the "Klimat 7500" unit in combination with heat pumps and water heaters allows to significantly save the energy resources of the consumer, while providing the required air exchange in a ventilated room and accurate maintenance of the set temperature.
APPOINTMENT, CONSTRUCTION AND PRINCIPLE OF WORK
The supply and exhaust multifunctional ventilation system "KLIMAT" is designed for the following functions:
Supply of fresh air into the serviced premises without recirculation (mixing with exhaust air);
Removal of exhaust air from the serviced premises;
Cleaning the supply air from dust and aerosols (for the class of used filters, the filtration degree is G4);
Cooling the supply air with built-in reversible heat pump;
Drying the supply air;
Heating the supply air with the help of built-in reversible heat pump operating in recuperation mode;
Additional heating of the supply air with the built-in water heater.
The reversible heat pump is a factory-filled and closed-loop freon circuit with copper-aluminum plate heat exchangers installed in the supply and exhaust ducts.
When the unit is operating in cooling mode, the heat exchanger in the supply channel is an evaporator and cools the supply air, and the heat exchanger-condenser is cooled by the air withdrawn from the room.
When operating in heating mode, the fresh air is heated from the heat exchanger, which in this operating mode serves as a condenser. The heat exchanger-evaporator which is located in the exhaust channel absorbs the heat energy of the exhaust air, which is characterized by significantly lower power consumption.
Technical Specifications
Name of the characteristic
Climate-7,500 Model 148
Capacity of supply and intake of fresh air, m³ /h:
Maximum/Minimum
7500 / 1000
Output power, kW: (охлаждения приточного воздуха)
 
32ºС; 40%; enth 62,5 kJ/kg
40,2
28ºС; 60%; enth 64,4 kJ/kg
37,3
28ºС; 40%; enth 62,5 kJ/kg
35,8
(exhaust air temperature is 28 °C), heating of the supply air occurs with the help of a "heat pump" and a glycol recuperator
 
16ºС; 20%
69,1
20ºС; 20%
80,3
24ºС; 20%
87,4
(the characteristics of the exhaust air are indicated), additional heating of the supply air with a water heater
64
Maximum power consumption::
 
Cooling of supplying air, kW;
15
Heating of supplying air by "heating pump, kW;
9
Cooling capacity factor
3,5 ... 5,2
The coefficient of heat performance
4,8 ... 18,9
Control mode
Auto
Temperature control
Microcomputer
Power
380V/3~/50Hz+N+PE
Noise level through the body is not more, dB(А) (at a distance of 1 m)
46
Refrigerant (R-407C), g
15000
Overall dimensions of the installation without additional blocks, mm
2304 х 1091 х 3033
Connecting dimensions, мм:
 
1st option
630
2nd option
400 х 400
Flow direction
> <