CDF
CDF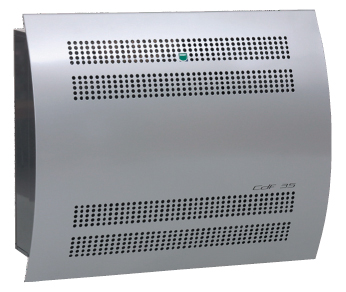 Features and applications
Dantherm CDF dehumidifiers for general usage are similar to those for Dantherm CDP pools in terms of design and appearance, but differ from them by a temperature range that is shifted towards lower values - from 3 to 25 °C, while for CDP series dehumidifiers the range of permissible operating temperatures is from 10 to 36 °C, which largely determines the specific application. For even lower temperatures (up to -15 °C), Dantherm offers AD adsorption dehumidifiers.
Thanks to its pleasant design, wide temperature range and easy maintenance, the dehumidifiers of Dantherm CDF series household dehumidifiers can be used in administrative and public buildings as well as in country houses to protect equipment, furniture and interior finishing from corrosion, fungi and mold.
Dantherm CDF dehumidifiers are designed for wall mounting directly in a room, the air of which is subject to drying. If you need floor installation of the model CDF 35/45, you can additionally be equipped with support legs. If installation of dehumidifiers in the room is undesirable for some reason, it is recommended to use CDF 35T/45T concealed installation desiccants in a separate technical room adjacent to the main one.
Design features
The housing is made of hot-galvanized steel with additional external and internal enamel coating.
Wall mounting using the bracket included in the delivery.
A drain hole located at the bottom of the dehumidifier.
Drain connection for connection of a water hose with a diameter of 1/2".
Filter on the air intake.
Rotary compressor.
Radial fan (CDF 35) and two radial fans (CDF 45).
Kit for floor mounting (optional).
Control system
Automatic maintenance of the required humidity level (standard setpoint ~ 60% RH) is provided by the built-in hygrostat. If you intend to frequently reset the set humidity level, it is recommended to connect an external room hygrostat to the unit.
The dehumidifier control systems Dantherm CDF 35 and Dantherm CDF 45 include an integrated active frost protection device. 30 minutes after the evaporator sensor has registered the beginning of icing of the evaporator, the dehumidifier automatically switches to defrosting mode, during which the hot refrigerant passes directly through the evaporator, bypassing the condenser.
Technical specifications
| | | | |
| --- | --- | --- | --- |
|   | Ед. изм. | Dantherm CDF 35 | Dantherm CDF 45 |
| Operating range, humidity | % RH | 40 - 100 | 40 - 100 |
| Operating range, temperature | °С | 3-30 | 3-30 |
| Air consumption | m³/h | 250 | 500 |
| Power | V/Hz | 1x220/50 | 1x220/50 |
| Maximum current consumption | А | 3,0 | 5,3 |
| Maximum power consumption | kW | 0,70 | 1,2 |
| Refrigerant |   | R407C | R407C |
| Refrigerant quantity | kg | 0,600 | 0,950 |
| Noise level (1 m) | dB (A) | 47 | 49 |
| Weight | kg | 60 | 74 |
| Color | RAL | 7024/9006 | 7024/9006 |
| Protection class |   | IPX4 | IPX4 |
Moisture pick-up curves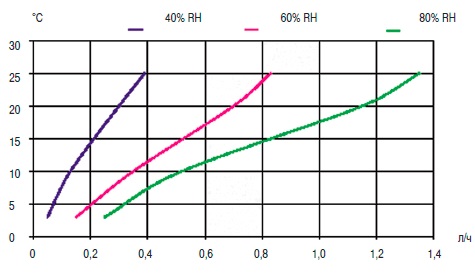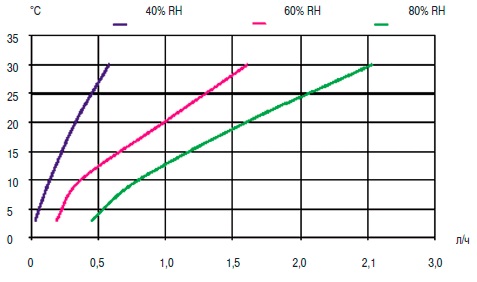 Accessories:
Room Hygrostat
Kit for floor mounting