KBT 160EC THERMO FAN
KBT 160EC THERMO FAN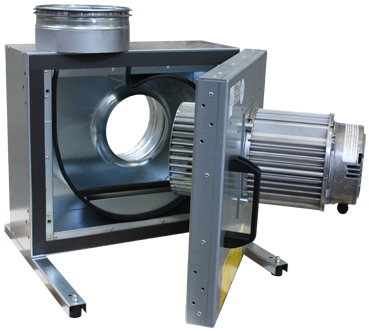 Highly efficient EC motors
100% of speed regulation
Built-in motor protection
Low noise level
The maximum temperature of the transported medium is 120 ° CС
EC technology is an intelligent technology that uses an integrated electronic control system to make sure that the engine always works with the optimum load. Compared to AC motors, energy efficiency in EC motors is much higher.
Another feature of energy-efficient motors is their energy-saving potential, not only at full, but especially at partial load. In such operating modes, the efficiency losses are much less than for asynchronous motors of similar power. Lower energy consumption ensures lower operating costs.
Recommendations for application: KBR fans are designed for exhaust ventilation with high temperatures of the transported medium (up to 120 ° C), for example, for kitchens of restaurants, etc., for removing gases during welding, for ventilation of industrial baking ovens, ets.

Design: The case is made of two sheets of galvanized sheet steel and insulated with a layer of mineral wool 50 mm thick. The KBT-EC fans have a folding door for easy inspection and maintenance. The direction of opening the door can be changed from left to right. The fan is insulated from the housing by means of connectors, vibration dampers are built into the carrier frame.

Motor: KBT fans are equipped with highly efficient EC motors, with impeller with forward curved blades made of galvanized steel. Power electronics is built into the motor housing. All models have one potential-free terminal for service messages. All motors can be used at a frequency of 50/60 Hz. Input signal for single-phase motors: 200-270 V, for three-phase motors-380 and 480 V. Speed regulation is carried out using a 0-10 V signal. Each motor has a 10 ... 20 V output for connecting an external potentiometer or sensor.
Mounting: KBT are mounted on a load-bearing frame with vibration dampers, wall mounting is carried out using WBK brackets (optional accessory), external mounting is possible with the installation of a protective cover WSD (optional accessory).