KBT 160DV THERMO FAN
KBT 160DV THERMO FAN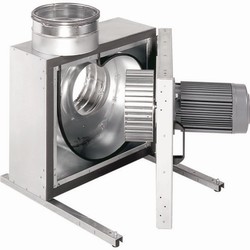 Benefits:  
Maximum temperature of transported air 120 ° C
Speed control capability
Built-in thermal contacts
Low noise level
Recommendations for application: KBR fans are designed for exhaust ventilation with high temperatures of the transported medium (up to 120 ° C), for example, for kitchens of restaurants, etc., for removing gases during welding, for ventilation of industrial baking ovens, ets.

Design: The case is made of two sheets of galvanized sheet steel and insulated with a layer of mineral wool 50 mm thick. KBT fans have a folding door for easy inspection and maintenance. The direction of opening the door can be changed from left to right. The fan is insulated from the housing by means of connectors, vibration dampers are built into the carrier frame.

Motor: The KBT fans are equipped with highly reliable motors corresponding the IEC standard, and the impeller with forward curved blades made of galvanized sheet steel. To protect the motor from overheating, KBT motors are equipped with built-in thermal contacts with leads for connection to an external protection device.

Speed regulation: The speed of single-phase fans can be adjusted by means of a five-step transformer, three-phase transformers with a five-step transformer and a change in the "triangle" / "star" connection method.

Mounting: KBT are mounted on a load-bearing frame with vibration dampers, wall mounting is carried out using WBK brackets (optional accessory), external mounting is possible with the installation of a protective cover WSD (optional accessory).

Certificates: Certificates of conformity of the Russian Federation and Ukraine