CT 225-4 CENTRIFUGAL FAN
CT 225-4 CENTRIFUGAL FAN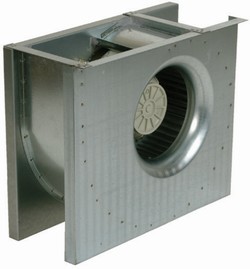 Speed control capability
Built-in thermal contacts
Can be installed in any position
Maintenance-free and reliable in operation
Recommendations for application: Supply and exhaust ventilation systems for various purposes. The CT fans have a higher efficiency due to their design and create a relatively high static pressure for working with branched networks of air ducts.

Design: The fan housing is made of galvanized sheet steel.

Motor:Fans of this series have impellers with forward curved blades and motors with an external rotor. To protect the motor from overheating, the CT fans have built-in thermal contacts with leads for connection to an external protection device.

Speed regulation: The speed of fans can be adjusted by means of a five-step transformer.

Connection: The CT 225-450 fans are connected electrically directly to the motor.

Mounting: CT fans are installed in any position, do not require maintenance and are reliable in operation. The fans are compact and easy to install.

Certificates: Certificates of conformity of the Russian Federation and Ukraine