CE 140 L-125 CENTRIFUGAL FAN
CE 140 L-125 CENTRIFUGAL FAN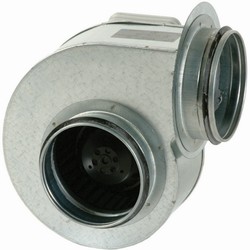 • Speed control capability
• Built-in thermal contacts
• Ability to install in any position
• Maintenance-free and reliable in operation
Recommendations for application: Supply and exhaust ventilation systems for various purposes. CE fans can be operated independently or integrated into other equipment.

Design: The fan housing is made of galvanized sheet steel. At the inlet and outlet of the fan there are flanges with a rubber seal for connection to air ducts.

Motor: The CE 140 models have impellers with forward curved blades and motors with an external rotor. To protect the motor from overheating, CE fans are equipped with built-in thermal contacts with manual restart.

Speed regulation: The speed of the fans can be adjusted by means of a stepless thyristor or a five-step transformer.

Connection: Fans CE 140 are equipped with a terminal box for power connection.

Mounting: CE 140 models can be installed in any position, maintenance-free and reliable. The fans are compact and easy to install.

Certificates: Certificates of conformity of the Russian Federation and Ukraine