AW 300E2 AXIAL FAN
AW 300E2 AXIAL FAN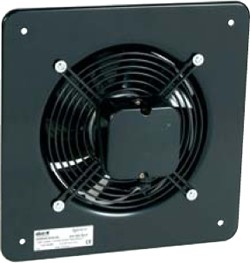 Wall mounting
Adjusting the speed of rotation
Built-in thermal contacts
They do not require maintenance and are reliable in operation
Recommendations for application: Fans AW - for exhaust ventilation without networks of air ducts (warehouses, compressor houses, etc.).

Design: The fan housing, protective grille and impeller with sickle-shaped vanes are made of galvanized steel and painted black (RAL 9005). The AW fans are equipped with square plates for wall mounting.

Motor: AW are equipped with electric motors with an external rotor with a variable speed. The motors are equipped with built-in thermal contacts with leads for connection to an external overheating protection device

Speed regulation: The speed of fans with a single-phase motor can be controlled by means of a stepless thyristor or a 5-step transformer, fans with a three-phase motor - using a 5-step transformer or by switching the windings of a triangle-star.

Mounting: The AW fans are designed for wall mounting.

Certificates: Certificates of conformity of the Russian Federation and Ukraine