AW SILEO 1000D EC AXIAL FAN
AW SILEO 1000D EC AXIAL FAN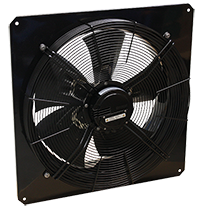 • 100% of speed regulation
• The junction box is mounted on the housing
• A protective grille included
• Built-in thermal contacts
• Installation in any position
• Maintenance-free and reliable in operation

Axle fans AW sileo EC use EC-motors with high-performance and energy-saving. Power electronics is integrated in the motor housing (screw terminal). All motors can be used at a frequency of 50/60 Hz. The input signal for single-phase motors is 200-240 V. Speed regulation is carried out using a 0-10 V signal.
Recommendations for application: Fans AW - for exhaust ventilation without networks of air ducts (warehouses, compressor houses, etc.).

Design: The AW sileo EC fans are equipped with square plates for wall mounting. The fan housing is made of galvanized steel. All parts are powder-coated in black (RAL 9005). The impeller is made of high-performance composite material with a metal core. The blades are aerodynamically shaped. The impeller is dynamically balanced (in accordance with DIN ISO 1940 part 1, G6.3).