Vitocal 222/242-S
Vitocal 222/242-S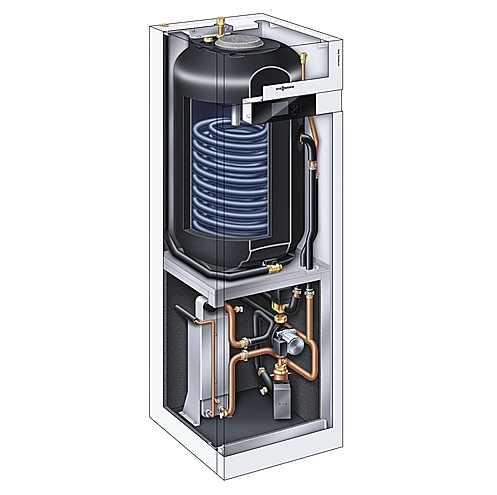 Compact heat pump with built-in hot water tank at an affordable price. Ideal for modern heating and cooling of private houses. Thanks to the split system it is almost silent.
VITOCAL 222-S: Split system air / water heat pump with integrated capacitive storage from 3 to 10.6 kW

VITOCAL 242-S: Split system of brine / water heat pump with support function from solar collectors from 3 to 10.6 kW

The Vitocal 242-S and 222-S heat pumps consist of an external unit with an evaporator, fan, compressor and electronic expansion valve, is a plus to a compact internal installation where a capacitive boiler and all necessary components are located. External and internal installations are connected by means of refrigerant piping. The maximum supply temperature for heating and DHW heating is 55 ° C in both units. This flow temperature can be reached even at an external air temperature of -15 ° C. Vitocal 242-S is equipped with a 220 liter boiler with a double heated coil that can be connected to the solar collectors or to another source of heating.
High efficiency even at low investment costs
Inverter technology of the compressor and electronic expansion valve ensure high efficiency of Vitocal 242-S and 222-S pumps (pump efficiency factor of 3.5 at 2 ° C of outside air and at 35 ° C of water according to European standard EN 14511).

The Vitotronic 200 offers a simple and logical menu, used in new split-systems of heat pumps. With a large illuminated display, working at high contrasts, it is easy to read data. The graphical user interface also shows heating and cooling curves. The Vitocal 242-S heat pump also provides information on the power of solar energy when connected to solar collectors.

Vitocal 242-S and222-S heat pumps are pre-assembled in the factory and delivered in pre-assembled form, which significantly reduces installation time and reduces the risk of installation errors.