Vitocal 161-A
Vitocal 161-A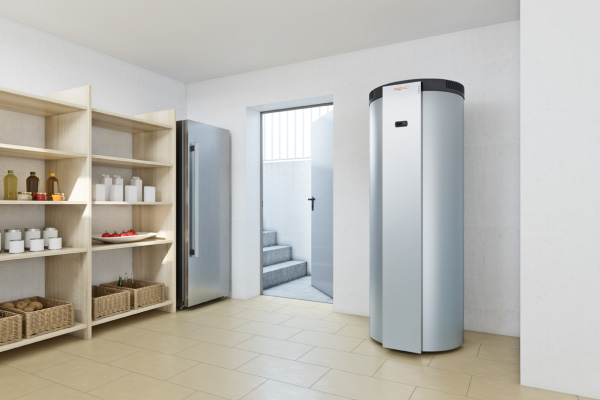 An effective low-power heat pump of air-water type.
Compactness and efficiency
The compact heat pump Vitocal 161-A is equipped with all components for efficient hot water supply. In one body of the unit there are a heat pump module and an enamelled capacity of 300 liters, as well as a control unit.

Vitocal 161-A uses the warmth of indoor air to heat water. It can be installed both in the private home and in a small industrial building. Ideal to use this heat pump in rooms with a large heat release in the air - bakeries, for example; or, to the contrary, in rooms where low temperatures are required - wine cellars, refrigeration rooms.

This unit is available both in monovalent design with one coil in the storage tank and in the bivalent one with two coils for use with solar collectors.

Possibility of using both internal and external air.

Additional equipment of the Vitocal 161-A heat pump allows to use of air from other premises, such as a bathroom or kitchen. By air ducts, air is sucked from the premises, part of it is heated by a heat pump up to 65 C in order to avoid the spread of legionnaires, at the same time, air dehumidification takes place, which increases its quality.

Additional possibility of cooling and an apartment ventilation.

To ensure a continuous air exchange, this heat pump can optionally be equipped with devices for exhaust and supply of an air flow through the ventilation system.

Benefits
• Easy installation and operation
• Reducing the cost of heating due to the generation of heat from the air
• Ability to integrate with solar panels
• High comfort of hot water supply and quick start thanks to the electric heating insert
• Electronic control system
• Especially quiet mode