RENDAMAX R18
RENDAMAX R18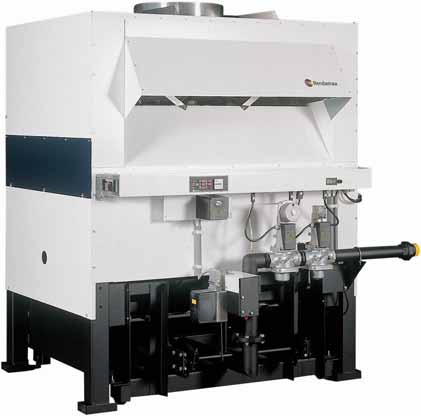 High-efficiency flow-through water-tube boilers Rendamax R18 are designed for heating and hot water supply systems for residential, administrative and industrial buildings. Small dimensions and weight of boilers at high efficiency values are achieved by using copper tubes with finned extruded tubes for the boiler heat exchanger. The rational design of the R 18 boilers allows quick assembly and disassembly of the boiler, which makes it easy and convenient to install, maintain and repair. Low-pressure atmospheric gas burners with a low primary air ejection ratio provide stable combustion conditions over the entire range of modulating boiler power control from 20 to 100% while maintaining performance and low noise level (up to 62 dB A). The burners of Rendamax boilers are resistant to pressure reduction in gas networks and remain operable up to a pressure of 6 mbar (with a corresponding reduction in power). The reliability of the burner operation is ensured by the use of a titanium alloy in the manufacture of burner pipes. The thermal losses of the boilers are minimized due to the optimum design of the combustion chamber and the built-in effective thermal insulation. The running of flow-through boilers with a high velocity of the coolant motion ensures an operation without scale of heating surfaces on water with moderate hardness (up to 4.5 mmol/l). Rendamax boilers are equipped with automatic control and safety units, as well as fault indicators.
Characteristics:
Power Range: 480-1002 kW.
Smooth modulation adjustment in the range of 20 - 100%.
The maximum operating temperature of the falling line is up to 140 ° C.
Maximum working pressure is 11 bar.
The heat exchanger is made of copper finned tubes obtained by extrusion.
Atmospheric burner made of titanium alloy.
Features:
— small dimensions, light weight and compactness in comparison with other analogues of the manufacturers of boiler equipment;
— execution on liquefied gas is possible;
— high thermal power - safety for the environment;
— the installation is delivered fully assembled and tested, including safety systems, pump control and gas line;
— high efficiency up to 90.3%
— low emission levels (NOx, CO).
Application:
— central heating up to 110 ° C;
— roof boilers;
— heating water for swimming pools;
— industrial solutions for overheated water up to 140 ° C.