Vitocal 300-G
Vitocal 300-G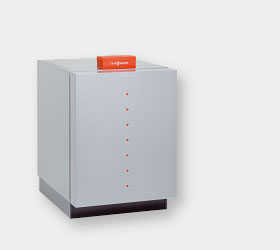 Single-stage / two-stage heat pump (leading/driven).

Power heat pump modification brine / water heat pump
Single-stage: from 21.2 to 42.8 kW
Two-stage: from 42.4 to 85.6 kW

Power heat pump modification water / water heat pump
Single-stage: from 28.1 to 58.9 kW
Two-stage: from 56.2 to 117.8 kW
The Viessmann Vitocal 300-G heat pump is used for heating large single-family and multi-family residential buildings. A single-compressor brine heat pump with a capacity of 21.2 to 42.8 kW, in the water / water version, the single-compressor heat pump has a power of 28.1 to 58.9 kW.

In multi-unit buildings with high thermal loads, two stages of the Vitocal 300-G heat pump are used, which operate on the leading/driven principle. That allows you to achieve a heating capacity of 42.4 to 85.6 kW (brine / water), or 56.2 to 117.8 kW (water / water).

The convenience of the new two-compressor machines is the exact selection of the heat pump power necessary for the heating of the facility. The exact power selection is achieved by a combination of the power output of the leading and driven unit of the Vitocal 300-G heat pump.

Powerful and reliable.

The heart of the Vitocal 300-G is a powerful compressor. Which provides high performance and reliability. Thanks to the use of large heat exchangers and complex refrigerant, the Vitocal 300-G demonstrates high performance and flow rates at temperatures up to 60 ° C.