Hyper Inverter
Hyper Inverter
New technologies contribute to the preservation of the environment by saving energy and make it possible to operate outdoor units of 4-6HP at temperatures down to -20 ° C, and also guarantee the flexibility of solutions for installation as a result of increasing the maximum length of the pipeline to 100 m.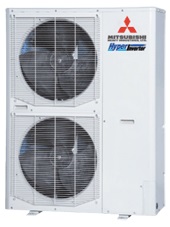 FDC100VNX / FDC100VSX (4.0HP) / FDC125VNX
FDC125VSX (5.0HP) / FDC140VNX / FDC140VSX (6.0HP)
High performance
Using modern technologies, such as a double rotary compressor, we were able to achieve the highest COP in the industry.
Long pipeline length (4-6HP)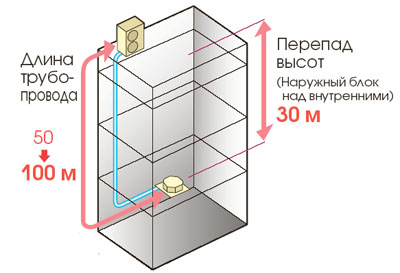 The highest heat output in the industry
Optimizing the control of the passage of refrigerant through an electronic TRV, as well as the use of a new dual rotary compressor, significantly increased the heating capacity of the air conditioner. Models of the Hyper Inverter series quickly reach the preset mode, working efficiently at outdoor temperatures up to -15 °C. Thus, air conditioners are excellent for regions with a cold climate. At low temperatures (2 °C inside and outside the room), air can be heated up to 40 °C in the first 4 minutes after starting the air conditioner, bringing the temperature up to 50 °C for the next 8 minutes.
Effective heating (4-6HP)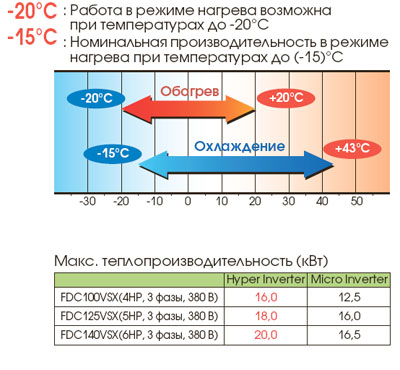 Blue Fin (3~10HP)
Due to the fact that the edges of the heat exchanger of the outdoor unit are coated with KS101 (Blue Fin), the corrosion resistance is improved compared to previous models.