RTV
Round throttle valve
Clasification:
RTV - Round thtottle valva.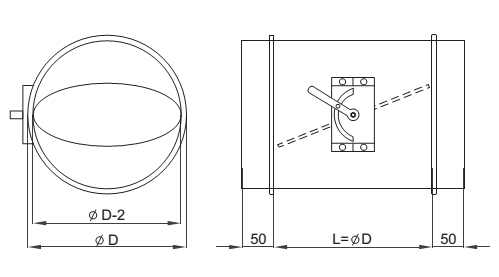 Execution
- with manual drive
- With a platform for the installation of an electric drive.
The round throttle valve (RTV) is made up of a body, a rotary leaf mounted on the axis, and an actuator. Places of adherence of the valve to the body sealed with expanded polypropylene sealant.
Characteristics
The maximum working pressure is 800 Pa.The coefficient of resistance in the open position at an air speed of 2 m / s, not more than - 1 Pa. The maximum permissible differential pressure in the closed position is 500 Pa. The maximum operating temperature of the valves is + 55 ° C.
MAterial
The throttle valve is made of galvanized sheet steel.
Technical characteristics of round throttling valves of the main sizes