Silencers for round ducts
Flexible rectangular silencer
Classification:
Silencers.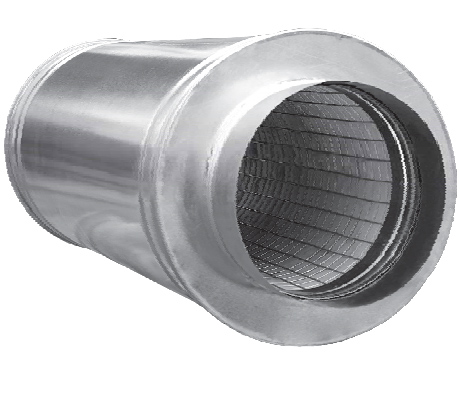 Execution
The silencer for round channels represents a rectangular construction with the connections for round channels. The silencers can have any position in the system. The range of operating temperatures is from-30 to + 50. The recommended maximum speed of the air passing through the silencer is 8 m/C.
Appointment
Silencers are designed to reduce the noise generated by the ventilation equipment and the noise that occurs in the duct parts. They are used for air environments that do not contain solid, adhesives, aggressive and explosive impurities. This kind of silencers is used in ventilation, air-conditioning and air heating systems.
Material
The silencers are made from galvanized steel (quality class is not lower than dx510 by en10327). Nonflammable mineral wool board covered with a black glass-cloth is used by way of noise absorbing material. The glass-cloth prevents blowing fibers from mineral wool into the ventilation channels. The connecting pipes provide a rack rail connection with ducts of rectangular cross-section.
Technical characteristics of rectangular silencer are of standard sizes